My vegetable garden is almost ready to plant......last year we had such a cold wet spring the even though I planted my green beans under hoops covered with plastic they still froze and I had to plant them again......This year I really don't think that will be a problem. Im chompping at the bit!!!
I can't wait to get started. I found this website that had a list of early spring vegetables to plant....I'M READY!!! Now it's raining.........
Vegetables for early spring
Vegetables for early spring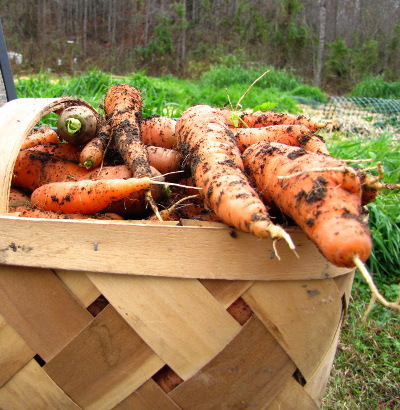 Even under quick hoops, you won't want to plant frost-sensitive vegetables like tomatoes and cucumbers anytime soon. However, there is still a wide selection of crops to choose from for your spring garden. I've highlighted the easiest ones in the chart below.
| | | |
| --- | --- | --- |
| Vegetable | Start from: | Notes |
| Beets | Seeds | Beet seeds can sometimes be difficult to germinate. As with other root crops, beets need loose, loamy soil. |
| Broccoli | Transplants | The more advanced gardener can start her own seedlings either inside or in a quick hoop. Otherwise, buy sets from the local feed store when night temperatures have risen into the high 20s to low 30s Fahrenheit. |
| Brussels sprouts | Transplants | The more advanced gardener can start her own seedlings either inside or in a quick hoop. Otherwise, buy sets from the local feed store when night temperatures have risen into the high 20s to low 30s Fahrenheit. |
| Cabbage | Transplants | The more advanced gardener can start her own seedlings either inside or in a quick hoop. Otherwise, buy sets from the local feed store when night temperatures have risen into the high 20s to low 30s Fahrenheit. |
| Carrots | Seeds | Well-drained, loamy soil is mandatory. Carrots are slow-growers, so weed carefully to give the seedlings breathing room. |
| Cauliflower | Transplants | The more advanced gardener can start her own seedlings either inside or in a quick hoop. Otherwise, buy sets from the local feed store when night temperatures have risen into the high 20s to low 30s Fahrenheit. |
| Collards | Seeds | Spring greens are some of the easiest vegetables to grow. In addition to collards, spinach, and Swiss chard, consider trying some Asian greens for variety. |
| Leeks | Seeds | Leeks take a long time to grow, so I generally prefer the perennial Egyptian onions instead. As with other root crops, leeks need loose, loamy soil. |
| Lettuce | Seeds | Leaf lettuce is my earliest harvest of the year because I always plant it under quick hoops. You can cut leaves within a month of planting, but be sure to seed a second bed as soon as you start eating the first --- lettuce becomes bitter within a few weeks of first harvest. |
| Onions | Seeds, sets, or transplants. | Getting your onions to germinate out in the cold can be a bit tricky, so you may choose to start them inside or under quick hoops to ensure they have time to grow before summer heat stunts them. Select a variety appropriate for your day length (short day in the south and long day in the north.) Many gardeners simplify planting by buying sets (tiny bulbs) from the local feed store, but onions grown from sets usually don't store well. |
| Parsley | Seeds | Parsley is grown very similarly to carrots, but you pick the leaves a few at a time for the next year rather than digging up the root. |
| Peas | Seeds | Soak your seeds overnight before planting to ensure they sprout quickly. Erect a trellis for them to grow on. |
| Potatoes | Cut up pieces of potato, each with two eyes | Hill up your potatoes by adding soil or dirt extending a few inches up the growing stem once the plant is about eight inches tall. This prevents the new tubers from being exposed to sunlight and turning green. If you're planting early into cold soil, consider cutting your seed potatoes a few weeks in advance and laying them out in a bright spot so they'll presprout. |
| Radish | Seeds | Some gardeners plant radish seeds in their carrot rows. The radishes come up quickly and mature before they compete with the slower-growing carrots. |
| Spinach | Seeds | I find that spinach plants usually bolt in the spring, so I generally focus on other varieties of leafy greens. |
| Swiss chard | Seeds | Swiss chard seeds can sometimes be difficult to germinate, but otherwise Swiss chard is perhaps the easiest green to grow and will keep producing all summer. |
| Turnips | Seeds | Like other root crops, turnips prefer loamy, well-drained soil. |